The crypto market continues its uncertain direction on shaky ground with Bitcoin struggling to maintain $34,000. For investors seeking Bitcoin alternatives, NEO, Conflux, Render, Bitcoin Minetrix, and Meme Kombat present potential avenues as leading contenders for the best crypto to buy now.
Despite the subdued market activity in the broader cryptocurrency space today, the price of NEO is seeing a notable surge, jumping over 6% to reach 8.81$ so far today. This spike comes on the heels of NEO unveiling a sidechain designed to counter Maximum Extractable Value (MEV) attacks while maintaining compatibility with Ethereum. This development could enhance NEO's transaction speeds and scalability.
Technical analysis shows a series of price increases for NEO stemming from a support level of $6.42. After a period of consolidation, NEO broke out, signaling a prolonged bullish trend. Its price has also crossed the 50-day and 200-day EMAs, reinforcing the bullish outlook.
Conflux (CFX) has shown resilience as well as it hovers above the 100-day EMA at $0.1509, registering a 0.40% gain so far today. After a period of retracement towards the crucial 100-day EMA over the past three days, CFX is maintaining its position above this support.
As long as CFX can keep consolidating above the 100-day EMA, the technical outlook remains positive, which combined with an optimistic crypto market sentiment, could ignite the next price surge for CFX.
Additionally, Conflux expanded its global presence with the recent opening of Hong Kong offices on October 25. Conflux's expansion into Asian markets is in line with its objective of providing global services and promoting the adoption of its network. The international growth of Conflux has the potential to positively impact the long-term trajectory of its native CFX cryptocurrency.
Meanwhile, the Render Token (RNDR) price is currently trading at $2.222 as it trades 3.35% higher so far today. RNDR has surged over 49% over the past month so far. Technical analysis shows potential for further gains if resistance levels at $2.20 and $2.40 are exceeded.
RNDR has a market capitalization of around $835.3 million and a 24-hour trading volume of $67.7 million. Render utilizes RNDR for trading GPU computing power, driving adoption. RNDR has seen a 318% spike in price over the past year.
For investors interested in getting in at the start of crypto projects, presales like Bitcoin Minetrix and Meme Kombat present compelling opportunities.
With the crypto market still in flux, NEO, Conflux, Render, Bitcoin Minetrix, and Meme Kombat are displaying encouraging traction, making them choices to consider as the best crypto to buy now.
Golden Cross Signals Bullish Trend for NEO Price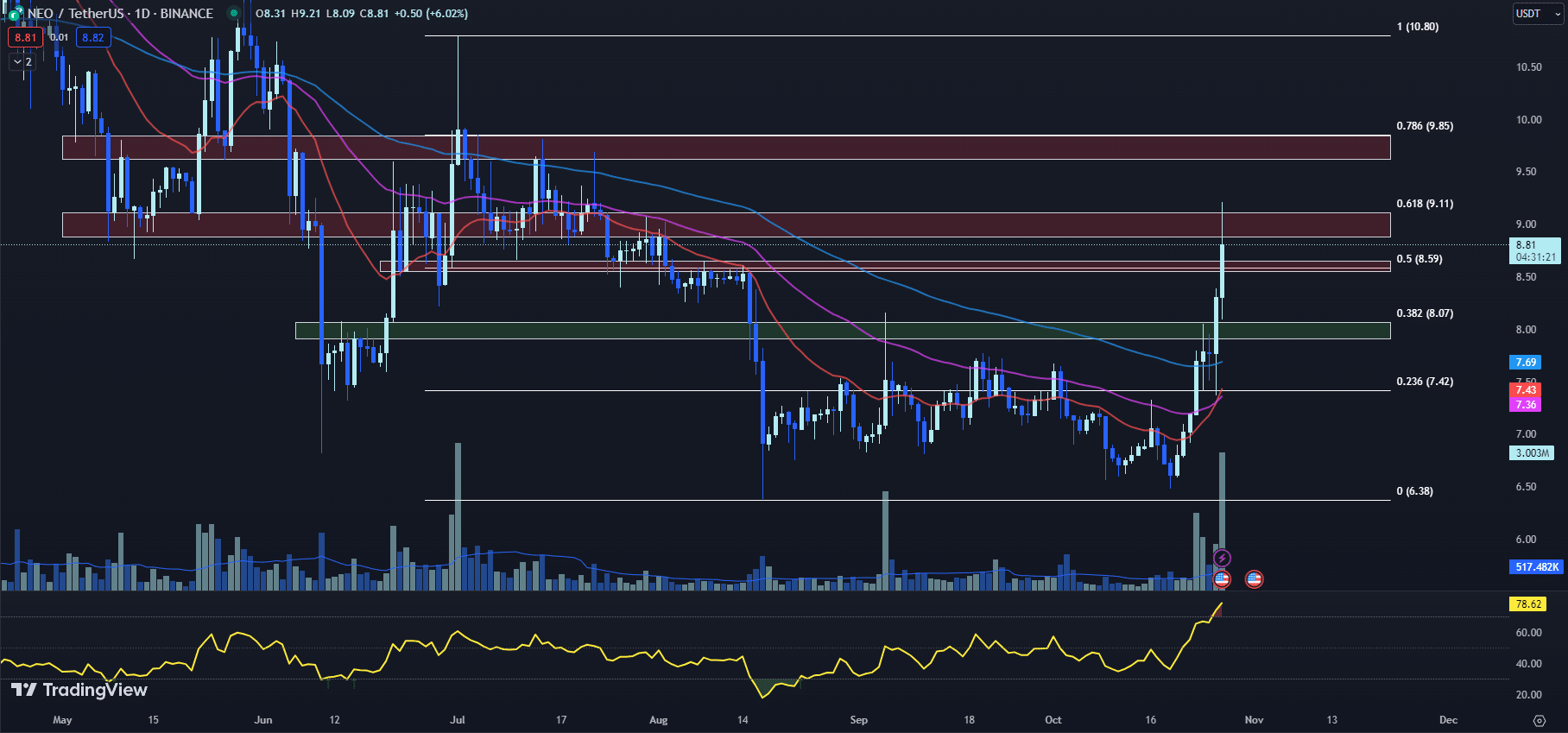 The NEO price has seen a strong move higher over the last 24 hours, with the coin rallying over 6% amidst surging trading volumes. The NEO price currently stands at $8.81, up from yesterday's opening of $7.77.
The 20-day EMA for the NEO price is at $7.43 while the 50-day EMA stands at $7.36, with the short-term EMA crossing above the long-term EMA. This golden cross is typically seen as a bullish indicator, signaling growing momentum in the uptrend.
NEO's RSI has climbed to 78.62 from yesterday's 73.82. This shows the positive sentiment is strengthening and raises the potential for the NEO price to become overbought in the near term.
The MACD histogram has also grown to 0.21, up from 0.16 previously. This indicates the upside is accelerating as buyers remain in control.
NEO's market cap now stands at $622 million, a 9.37% increase. Meanwhile, trading volumes have exploded 220.83% higher to $154 million over the last 24 hours. This growing interest adds credibility to the rally.
With NEO stabilizing above the first resistance at $8.55 to $8.65, the path of least resistance appears higher. However, overbought RSI warns of potential exhaustion ahead. Traders may look to buy dips, targeting a move above $8.88 to $9.11 resistance. Near-term support lies at $7.69  to $8.07.
Conflux CFX Price Holds Strong Above 100-Day EMA: What's Next for Conflux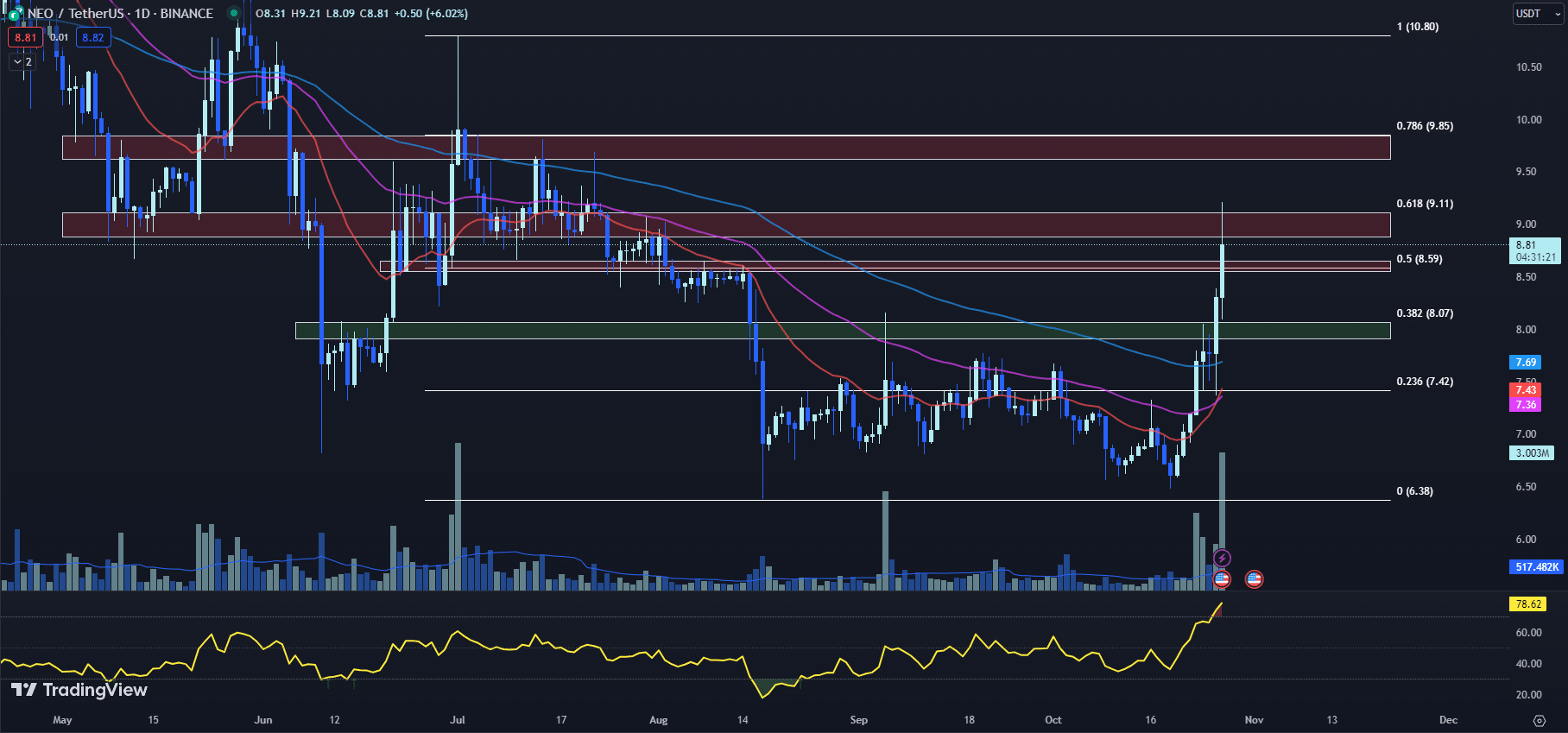 The Conflux (CFX) price remains rangebound above the 100-day EMA, consolidating after its recent run. With the CFX price trading at $0.1509, up 0.40% so far today, traders await the next directional move.
CFX continues trading in the range between $0.1364 and $0.1718, where it formed an August gap. The 20-day EMA stands at $0.1274 with the 50-day EMA at $0.1284, well below the current CFX price action. However, the 100-day EMA provides immediate support at $0.1446.
The RSI of 68.87, down from 78.60, shows bullish momentum is slowing in the overbought territory. CFX may see a pullback as conditions normalize before extending higher. Still, the RSI above 50 suggests overall bullishness remains intact.
At 0.0055, up slightly from 0.0053, the MACD histogram reflects building bullish momentum which could lift the CFX price despite overbought RSI readings.
On the upside, CFX faces resistance between $0.1662 to $0.1718, the old range support. A decisive break above opens the door for further gains.
Support lies at the 100-day EMA of $0.1446. Further downside support rests between $0.1364 to $0.1400, prior resistance and the bottom of the current range.
As CFX consolidates between key levels, the bulls remain in control above the 100-day EMA support.
While the RSI cools from overbought territory, the uptrend may continue to improve MACD and volume. A break above $0.1718 resistance or a drop under $0.1364 support will signal the next major move.
Render Token RNDR Price Prediction: Bulls Charge as Resistance Fades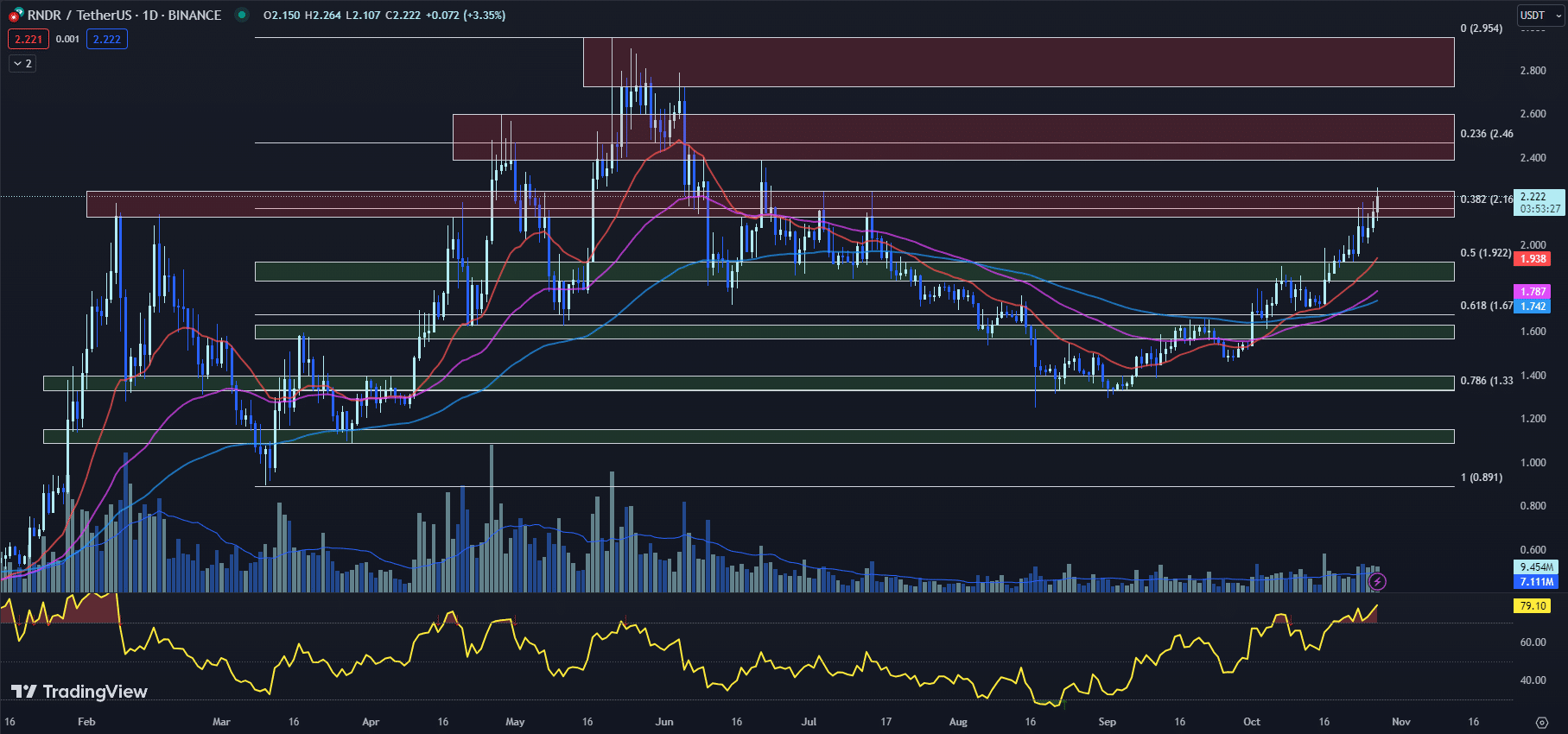 The RNDR price has seen a strong uptrend over the past few weeks, with the cryptocurrency setting a new 4-month high of $2.264 earlier today. RNDR is currently trading at $2.222, up 3.35% so far as it attempts to break out past immediate resistance levels.
RNDR has gained nearly 50% over the past month, highlighting the bullish momentum behind the recent price action.
Looking at key technical indicators, the RNDR price appears well-positioned for further gains in the near term. The 20-day EMA stands at $1.938 while the 50-day EMA is at $1.787, with RNDR trading significantly above both in a bullish alignment. The EMAs are also trending upwards in a parabolic curve, signaling building momentum.
The RSI for RNDR is currently at 79.10, up from yesterday's 76.36 and approaching overbought territory. This indicates buyer strength is outpacing seller pressure at the moment. The MACD histogram is printing at 0.026, an increase from 0.021 yesterday, also showing growing bullish sentiment around the RNDR price.
With RNDR attempting to break past resistance between $2.128 and $2.245, which aligns with the Fib 0.382 level at $2.166, a successful breakout could see prices target the next zone between $2.388 to $2.598. This area coincides with the Fib 0.236 level at $2.467.
On the downside, initial support is expected between $1.834 to $1.921, which converges with the Fib 0.5 level at $1.922 and 20-day EMA at $1.938. This area appears to hold significant support based on multiple confluences.
Overall, RNDR's technical picture remains constructive for further near-term gains as long as the token can break out past the immediate resistance zone. Upside appears the path of least resistance at the moment barring any major shift in market conditions.
In addition to trading established cryptocurrencies, investing in presale events gives investors access to new crypto models like Bitcoin Minetrix and Meme Kombat before exchange debuts.
Presales offer discounted entry to purchase tokens early and benefit from substantial upside as projects build traction.
Diversifying Your Crypto Portfolio With Bitcoin Alternatives
When building your cryptocurrency portfolio, it's important to look beyond just Bitcoin. While Bitcoin is the most well-known name, there are many other cryptocurrencies that could be strong additions as the best crypto to buy now.
One strategy to consider is participating in presale events for new cryptocurrency projects. Presales allow investors to acquire tokens early, often at discounted rates compared to when the tokens are listed on exchanges post-launch. This can provide opportunities to get in early on bitcoin alternative projects with significant upside potential.
Some compelling Bitcoin alternative presales to watch in 2023 include Bitcoin Minetrix and Meme Kombat.
Bitcoin Minetrix's BTCMTX: The Best Crypto to Buy Now for Accessible Bitcoin Mining
Bitcoin mining just got easier and more accessible thanks to Bitcoin Minetrix's cloud mining platform. Users will be able to stake tokens and earn Bitcoin mining profits without the need for expensive equipment or technical expertise.
The project seeks to open crypto mining to more users through tokenized mining credits purchasable with its ERC-20 token, BTCMTX. Users can then stake tokens to receive a portion of the platform's cloud mining revenue.
By tokenizing cloud mining credits on the blockchain, Bitcoin Minetrix is reducing the risks of traditional cloud mining while giving users more control and transparency.
#BTCMTX provides a secure cloud mining platform for all #Crypto users.

Previous concerns about expensive hardware and cloud mining scams have discouraged many from getting involved.

This decentralized strategy ensures a mining journey that is both transparent and secure. 🔒 pic.twitter.com/nRG0xVVEzj

— Bitcoinminetrix (@bitcoinminetrix) October 27, 2023
The BTCMTX presale comes as Bitcoin hovers near $34,000 after retreating from its November 2021 all-time high of nearly $69,000. Analysts expect renewed upside for Bitcoin if it can overcome resistance around $40,000. Platforms closely aligned to Bitcoin like Bitcoin Minetrix could also benefit from a bull run.
BTCMTX is currently in the third stage of its presale priced at $0.0112 per token. In addition to potential price gains, BTCMTX offers an attractive staking yield of up to 234% APY with over 178 million tokens staked so far.
Bitcoin mining has become increasingly centralized in corporate mining farms. By expanding and democratizing the crypto mining base, Bitcoin Minetrix intends to improve network security.
As crypto mining becomes more competitive, Bitcoin Minetrix offers an easy way for any investor to get in the game and start earning from Bitcoin mining today.
Meme Kombat: The Best Crypto to Buy Now for Memes and Gaming in 2023
Meme Kombat introduces a unique twist in the meme coin market as cryptocurrency continues to find applications beyond simple transactions. Meme Kombat has already raised over $790,000 in the ongoing $MK presale, with less than 6 days remaining in its current presale stage, which offers $MK token for $0.1667.
Leveraging both meme culture and crypto gaming, the platform will offer a blend of active and passive financial gains to its players. With its native Meme Kombat Token ($MK) audited by Coinsult, the platform provides multiple avenues for token utility, including staking features and in-game betting.
Being compared to $PEPE and #PEPE2 is a huge honor, but we need to know who wins between the two in Kombat⚔️

Find out in Season 1💪

And catch the rest of the video here👇 https://t.co/xDVbCTeSCw pic.twitter.com/4g5ZtbyMeh

— Meme Kombat (@Meme_Kombat) October 27, 2023
Designed to establish a stable and growing ecosystem, the platform has earmarked 50% of the total supply of $MK tokens for its presale. The remaining half is allocated for staking and battle rewards, decentralized exchange allocation, and community rewards.
The core feature of the Meme Kombat platform is its artificial intelligence-powered combat between meme characters. The platform will offer a betting feature where $MK token holders can place wagers on AI-generated battle outcomes. Beyond this, it will also provide Player-vs-Player and Player-vs-Game betting options, using traditional odds mechanics for risk and reward assessment.
Adding an extra layer of utility, the platform has introduced staking mechanics. Holders of $MK tokens can earn a passive Annual Percentage Yield (APY) which is currently at 112%. The staking feature serves dual purposes: offering long-term rewards and mitigating market volatility by encouraging users to hold tokens.
For those interested in participating, the platform has a 14-day lock-in period for staking. After this, users have the option to either withdraw or keep their tokens staked to continue earning APY. The staking process can be carried out via the platform's website after securely linking a crypto wallet.
Slated for a rollout around November, the platform has announced plans for Meme Kombat Season 1, focusing on user engagement through battles and leaderboards. By December 2023, the introduction of Meme Kombat 2 is also on the agenda, set to include enhanced gameplay features.
With meme coins continuing to drive crypto hype in 2023, Meme Kombat offers an inventive take by integrating AI battles and gaming utility. Its presale fundraising success demonstrates a strong demand for this new model. With more features slated for release in 2023, Meme Kombat has the disruptive potential to be the best crypto to buy now in the crypto gaming space.
Disclaimer: Crypto is a high-risk asset class. This article is provided for informational purposes and does not constitute investment advice. You could lose all of your capital.