Over the past week, the crypto market experienced significant fluctuations. Meme coins, such as PEPE coin , took center stage and reached a market cap of 500, nearly doubling its value.
PEPE, after a meteoric rise influenced by pivotal events like a massive token burn and the market's shifting focus from Bitcoin Spot ETFs, saw its value nearly double.
Pepecoin doubles to $500M market cap as memecoin fever steals Bitcoin's ETF thunder. Memecoin PEPE has doubled in value to reach a $500 million market cap, as memecoin fever continues to steal the spotlight from Bitcoin and other major cryptocurrencies. pic.twitter.com/PPLpVoWAIl

— Verna Aguilar (@AguilarVer16223) October 27, 2023
However, as the euphoria waned and the market recalibrated, PEPE, alongside other meme coins such as Dogecoin and Shiba Inu, experienced a sharp decline.
With Bitcoin re-emerging as a trusted store of value amid geopolitical tensions, the question on everyone's mind is: What's next for PEPE and its fellow meme coins?
This Pepe price prediction aims to unravel the intricate dynamics at play and forecast the potential trajectory of these digital assets.
Factors Driving the Memecoin Surge
Several events influenced this growth pattern. Notably, the PEPE team's decision to burn approximately 7 trillion tokens played a significant role, reducing the coin's supply and likely driving up its value.
BURN BABY BURN 🔥 6.9 TRILLION $PEPE TOKENS BURNED BY THE TEAM 🔥 #UPONLY 🐸 pic.twitter.com/QWtoas4g3N

— Addison 🐸 (@MrPepeWorldwide) October 24, 2023
Additionally, as the hype around the Bitcoin Spot ETF started to wane, the crypto market's focus pivoted to memecoins.
Elon Musk's recent announcement about incorporating various payment methods into his platform, X, further stirred the market.
TLDR:
– Elon Musk's X is setting ambitious plans to introduce full payment and financial services by the end of 2024.
– Dogecoin (DOGE) is sparking considerable interest among crypto enthusiasts and investors as a potential payment method on X.

— Discover Crypto (@DiscoverCrypto_) October 27, 2023
If X integrates Dogecoin as a payment option, it could have profound implications for both the platform and the cryptocurrency.
Furthermore, Pepe Coin is currently trending at the top on CoinMarketCap, indicating significant upside potential for PEPE.
Comparison with Other Cryptocurrencies
Over the past week, meme-based coins such as Shiba Inu, Dogecoin, Pepe Coin, and Floki Inu have outshined industry giants like Bitcoin and Ether.
The appeal of these more speculative assets led to a significant surge in the value of meme coins, including Pepe and Dogecoin.
For instance, Shiba Inu notched impressive gains of +11.5%, achieving new price milestones. However, this uptrend proved to be short-lived.
As the market adjusted, prices of meme coins began to fall, triggering a sell-off. Pepe Coin, in particular, dropped by over 10%.
Bitcoin's Rally Amid Geopolitical Unrest
In the wake of recent corrections in meme coin values, Bitcoin has experienced a resurgence. This revival is largely linked to the ongoing conflict between Israel and Palestine.
This trend accentuates the growing belief among investors that Bitcoin serves as a dependable store of value in turbulent geopolitical situations.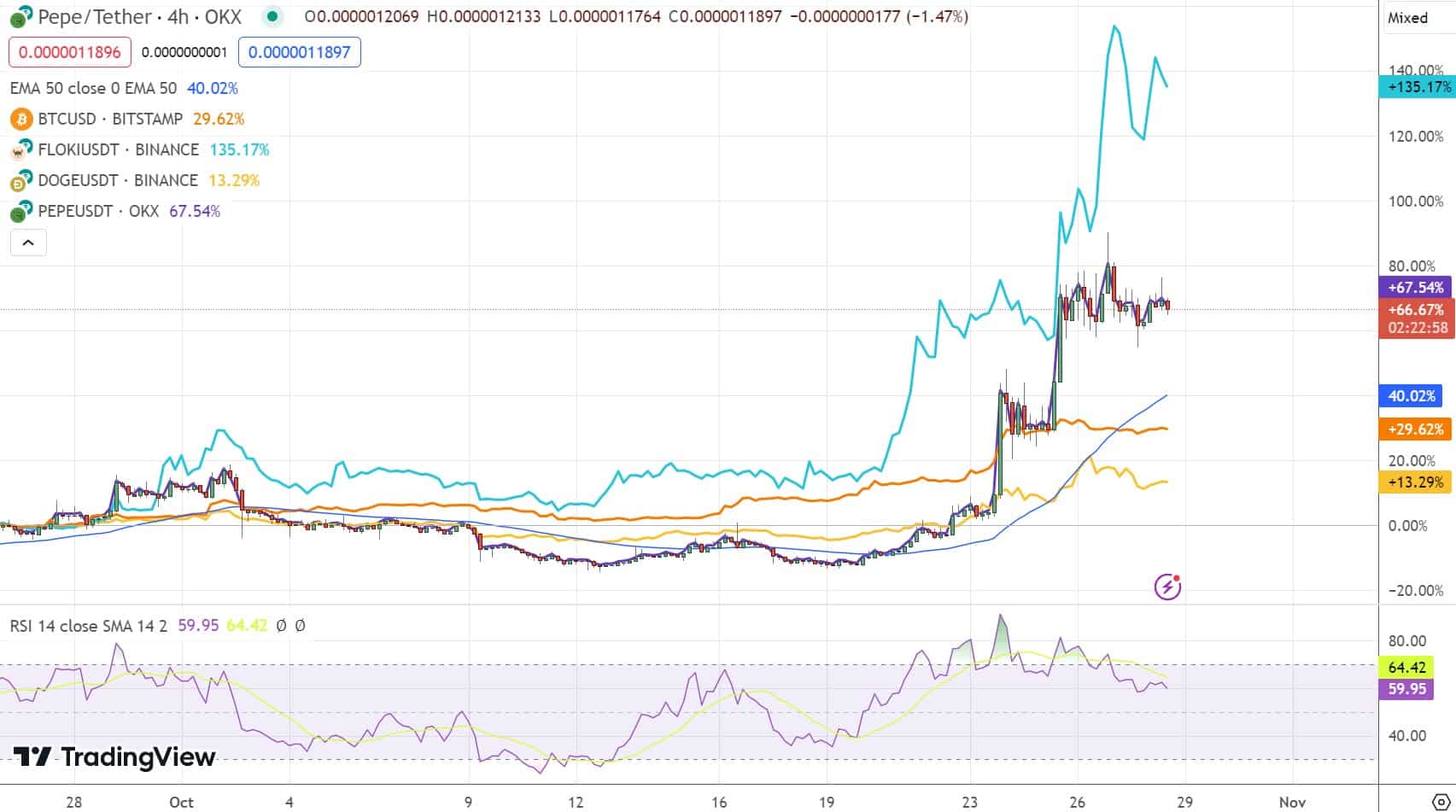 As an increasing number of investors seek out perceived safe havens, Bitcoin's price has climbed, instigating a shift in the meme coin landscape.
It's noteworthy that while FLOKIUSDT showcased significant gains, both Pepe Coin and Dogecoin reported minor setbacks over the past 24 hours. Such developments further reinforce Bitcoin's stature as a premier cryptocurrency.
For those closely watching the crypto market trends, be sure to check out our recent article on Bitcoin price prediction. Get the latest insights on BTC's potential trajectory.
Current Market Statistics
Pepe Coin: With a market cap of $506.03 million , it's currently priced at $0.00000112 (PEPE/USD). Over the past 24 hours, it has declined by 1.25%.

Dogecoin: Valued at $0.068818 (DOGE/USD) with a market cap of $9.74 billion. It has seen nearly 2.75% correction in the last 24 hours.

Shiba Inu: Holding a market cap of over $4.50 billion and priced at $0.000008.
Pepe Price Prediction
At the close of the trading session on October 27, PEPE was trading at a price of $0.00000112. Over the last 24 hours, the digital asset experienced moderate fluctuations.
Key Price Levels: The daily chart showcases pivot points crucial for traders to monitor. PEPE's immediate resistance stands at $0.000001371, followed by subsequent resistances at $0.000001594 and $0.000001792.
On the downside, the coin's immediate support level is at $0.000000905, with further support seen at $0.000000764 and $0.000000602.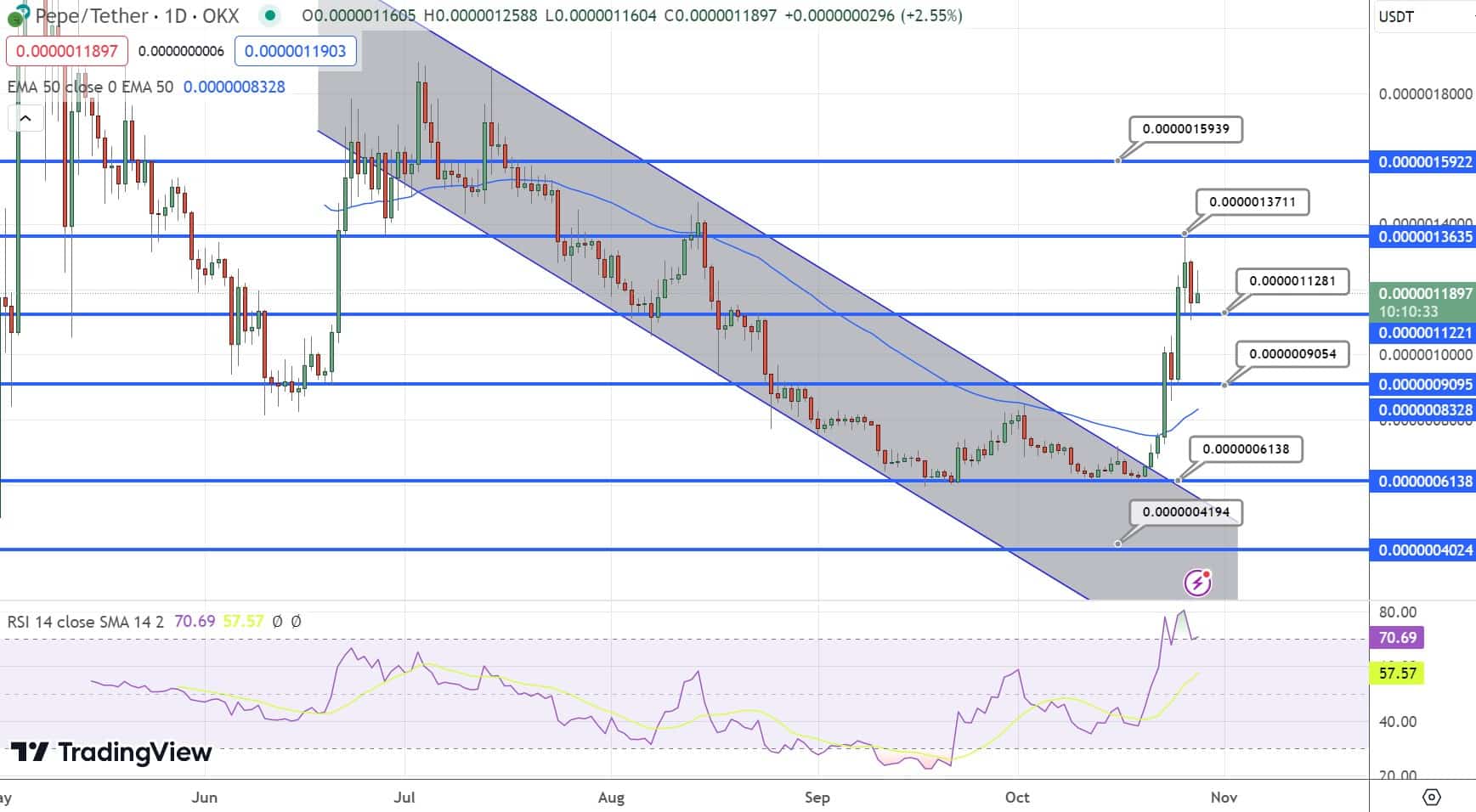 Overall Trend: Bullish as long as PEPE remains above the $0.000001124 mark; below this, the sentiment could turn bearish.  
Given its recent bullish momentum, PEPE might soon test the resistance at $0.00000137 in the coming days. Traders should monitor this level closely.
Bitcoin Minetrix (BTCMTX): Last Chance Alert
Venture into the innovative domain of Bitcoin Minetrix and its distinctive stake-to-mine model. The presale has commendably surpassed the $2.6 million mark, showcasing its growing traction.
As time is of the essence, there's merely 4 days and 19 hours left until the expected price surge. Ensure you're not left on the sidelines as this opportunity unfolds.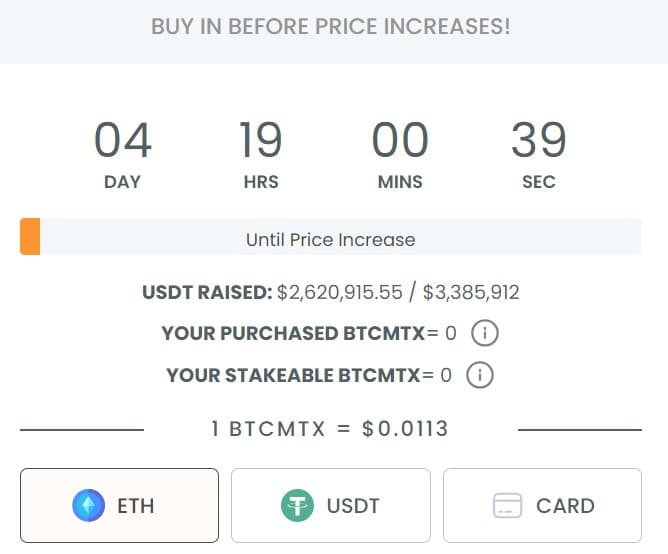 Stay Updated: Join the burgeoning Bitcoin Minetrix community on platforms like X, Discord, and Telegram for the latest updates. Secure your position in this transformative journey by joining the BTCMTX presale today.
Meme Kombat Presale Smashes $800K
Discover Meme Kombat, a pioneering venture merging the sentimental allure of retro gaming, memetics, and GambleFi within a decentralized Web3 framework.
Meme Kombat's core is its enthralling battleground where characters, representing distinct crypto communities, face off in intense duels.
Participants can wager on these animated clashes, forecasting results and potentially garnering substantial returns.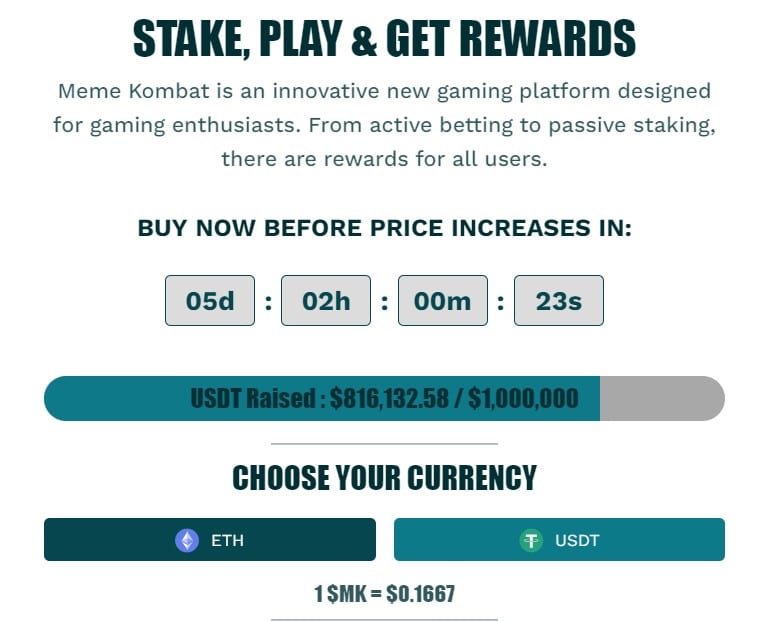 The USDT raised is nearing its $1,000,000 target, currently standing at $816K. Each MK token is priced at $0.1667.
Make your move now. With only 5 days remaining before an anticipated price hike, now is the time to engage.
Disclaimer: Crypto is a high-risk asset class. This article is provided for informational purposes and does not constitute investment advice. You could lose all of your capital.